Janis Stillings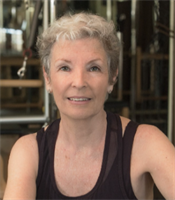 Janis' background in dance and theatre, both as a performer and teacher, instilled in her a love of movement as a way of life. As a dancer, Janis recognized the benefits of Pilates for strengthening her muscles in a movement-based, effective way. She is certified to teach Polestar Reformer and Comprehensive Mat through the Kane School of Core Integration with Kelly Kane. When faced with low bone density and the rising fear of moving, Janis' search for new ways to adapt the classic Pilates exercises to her condition led her to Rebekah Rotstein and Pilates for Buff Bones®. Janis was one of the first to become a licensed Pilates for Buff Bones® instructor. She has a strong desire to help others with similar issues find their way to a meaningful movement experience. In addition to regular continuing education, Janis makes it a point to get back to NYC as often as possible to continue to learn from the innovative faculty at the Kane School. Courses like Pre/Post Natal Pregnancy Pilates with Deb Goodman equip Janis to continue expanding her practice. Janis' clients come from all walks of life and fitness levels and she uses training and experience to encourage, explain and challenge them. Janis is also a certified Postpartum Doula PCD(DONA).
Janis Stillings instructs the following:
A 55min session utilizing the Reformer, Tower (Wall Unit) and Wunda Chair. This session will be an open level session.




Beginner/Int/Adv clients are welcome. This session is designed to clear your mind as you shape your body. It incorporates Pilates principles such as breathing, alignment, axial elongation, core control, and balance.




This Pilates Mat Class is for intro students.




Beginner/Int/Adv clients are welcome. Pilates Mat Practiced correctly, is a powerful conditioning program for the entire body. This session incorporates Pilates principles such as concentration, breathing, alignment, coordination, axial elongation, core control, centering, and balance.




This 55 min session will utilize the reformer, tower & Wunda chair.




Reformer Foundations Beg/Int basic movements and principles of work on the Reformer are introduced. As you progress in level, you will learn to integrate core control, correct breathing, and proper alignment with smooth, continuous movements for all muscle groups.