Paige Cockroft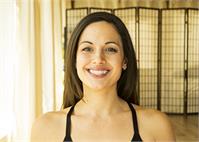 Paige is comprehensively certified to teach Mat and all Pilates apparatus through Polestar Pilates International. She has a Bachelors degree in education from Texas A&M University. Paige has a background in gymnastics, dance, and competitive cheerleading. She has practiced Pilates throughout her adulthood and loves the physical and mental benefits it can offer. She decided to become an instructor to encourage and help others discover the same benefits Pilates can provide.
Paige Cockroft instructs the following:
A 55min session utilizing the Reformer and Tower (Wall Unit). A client must complete at least four privates before attending this class as well as been taking Pilates for at least 6 months. This session emphasizes correct posture and alignment and core strengthening exercises that are safe for clients with Osteoporosis and Osteopinia.