Brittani Dunlap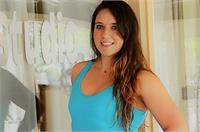 Brittani Dunlap instructs the following:
Pilates for Buff Bones is a Pilates-based workout that uses bone-strengthening techniques while focusing on alignment and balance. It targets the butt, hips, arms and back, while giving the whole body a terrific workout. This dynamic 55 minute class is adaptable and challenging for people of all levels, and is also safe for those with osteoporosis.




A 55min session utilizing the Reformer, Tower (Wall Unit) and Wunda Chair. This session will be an open level session.




A 55min session utilizing the Reformer and Tower (Wall Unit). A client must complete at least four privates before attending this class as well as been taking Pilates for at least 6 months. This session emphasizes correct posture and alignment and core strengthening exercises that are safe for clients with Osteoporosis and Osteopinia.




Reformer Foundations Beg/Int basic movements and principles of work on the Reformer are introduced. As you progress in level, you will learn to integrate core control, correct breathing, and proper alignment with smooth, continuous movements for all muscle groups.




All levels are welcome in this class.




This class will focus on increasing Core and Glute strength using the various pieces of Pilates equipment (reformer, tower, Bodhi) while increasing core and glute tone and strength. This challenging class will include advanced Pilates exercises. Not for the beginner or faint of heart. May include flexion exercises.