Brittani Dunlap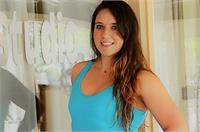 Brittani Dunlap instructs the following:
All levels are welcome in this class.




Put a spring in your step and workout in this Jump board class. Utilizing the jump board takes a regular Pilates workout and increases the cardio while lying down. This low-impact exercise gives you the aerobic benefits of a rebounder while protecting your knees and back from the jarring impact of landing. During the class, you will experience heavier springs for a great lower body workout and lighter springs to really get into the core.

The jump board exercises are beneficial for bone building. It is also beneficial for a variety of ailments like osteoporosis and it is also used in a varied number of rehabilitation exercise regimes for the human body.




This class will focus on increasing Core and Glute strength using the various pieces of Pilates equipment (reformer, tower, Bodhi) while increasing core and glute tone and strength. This challenging class will include advanced Pilates exercises. Not for the beginner or faint of heart. May include flexion exercises.